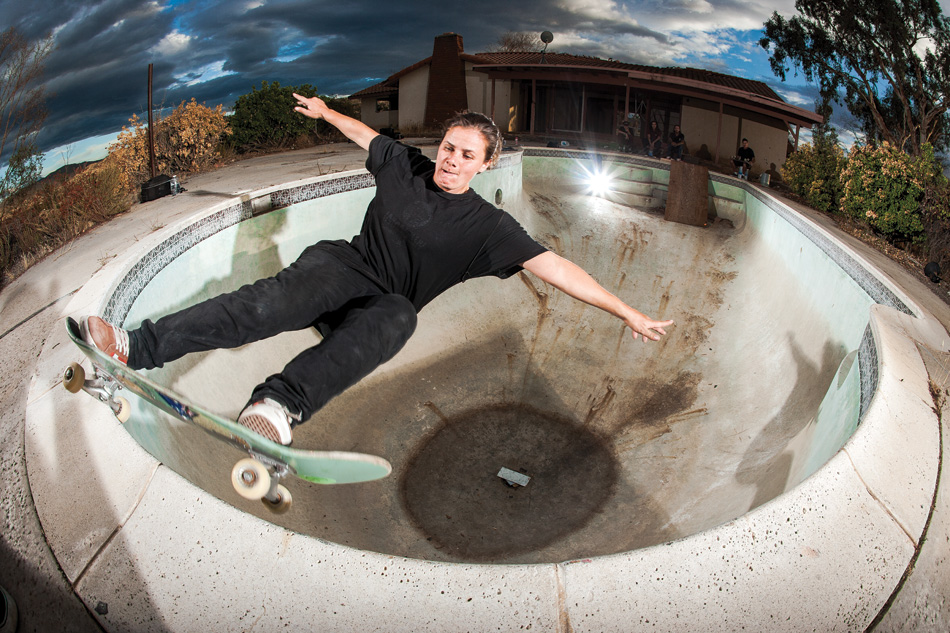 Izy Mutu, frontside grind, Hemet, California. Photo by Dave Swift.
What it's like for ladies who shred in a male dominated scene.

Words by Nat Kassel. Taken from Slam issue 213.

Skateboarding has always had an alternative culture to mainstream 'sports' like footy and cricket. While there's probably just as much sweat and Gatorade in skateboarding these days, we've got more blood than boxing and more conflict with cops than actual criminals do. These aspects of skateboarding generally mean it's considered a masculine thing, but an alternative masculinity to the one at footy games and UFC fights. Masculinity is still masculinity, though, and skateboarding doesn't have a reputation for being overly inclusive to women.
The lack of women in skateboarding is starkly visible at every park and street spot. In fact, if there's a woman in sight of these places, it's often assumed that she's someone's girlfriend or mum. While skate culture boasts a reputation for bringing people of all ages, nationalities and classes together, almost all of these people are men and boys. The scarcity of females has always existed in skateboarding, which makes you wonder how inclusive our subculture really is. Could it really be that skateboarding is a bit sexist?
You might remember that in 2013, Nyjah Huston told Thrasher, "Skateboarding is not for girls at all." (Maybe you don't remember, but all the women I interviewed for this article did.) Predictably, he was bombarded with backlash from people like Ed Templeton and Patrick O'Dell, not to mention his female fans, and he eventually apologised via Twitter. Then, in a very jock-bro interview with Wyke-A-Pedia, the Street League champ explained himself further. "[Skateboarding] is a very manly sport," he said. "We're getting sweaty, falling and getting scrapes." Instead of asking why women couldn't possibly sweat or get scrapes, the interviewer joked that he'd like to "see more naked women skateboarding". Nyjah laughed awkwardly, and then explained that he didn't want to see girls like his sister hit the concrete. The assumption was that women are incapable, unwilling, or not tough enough to skate, and there are plenty of women (and men for that matter) who take issue with that.
"I think every girl was kind of like, what a jerk," says Nikki-rose Quinlan, an Aussie shredder from the Gold Coast. "It's a male chauvinistic view." Over the phone, Nikki-rose tells me how she works with Girls Skate Australia, facilitating national skate competitions and events. When I ask her how many females are skating across the country, she explains how tight knit the female skate scene is: "There's probably, like, 100 girls that actually come to these events, from all different states." Of those, there are about 20 who are skating every week and competing at a decent level, she says. Compare that to my local park, Fernside in Sydney, where at least 100 dudes come to skate over any given weekend – and that's just one park, in one suburb, of one city. It seems then that within Australian skateboarding, men outnumber women in the thousands.
Izy Mutu and Kat Williams, two of Australia's best female skateboarders, both tell me they work full-time in order to fund skate trips. "Basically, I work up to 12 days in a row with two days off [to] save as much money as I can so I can go on trips and skate," says Kat. For Izy, the situation is pretty much the same, and she says she only knows of three women who get paid a salary to skate – the rest work or spend their contest winnings on skate trips. Even for the internationals, it's common to run a crowdfunding campaign in order to travel for competitions and tours.
When Esther Godoy, founder of Girls Skate Australia, interviewed Vanessa Torres, asking her why female skaters make so much less money than the men, she lamented, "It still blows my mind that the best female skateboarders in the world receive so little financial backing." Torres, who was the first female to win gold at the X Games, played it down, saying she preferred not to ride for "huge corporate companies", but the fact remains that the best female skateboarders in the world have it much harder than the best dudes.
According to all of the women I spoke to, a big part of it comes down to role models and encouragement. Kat says she had a lot of supportive people around her, which helped in getting sponsored, "But I also had people telling me, You can't do that, or You're really good for a girl, or Don't try that, you're not good enough." She tells me, "I would look around at the skatepark and none of the boys were getting these comments … they were [being] encouraged."
Similarly, Izy says it was rare to see footage of women shredding when she was younger. Now, with the increased connectivity that has come with the internet, that's changing. Girls Skate Australia provides a network for girls who skate to link up, as well as a platform to see what the best female skaters in the country are doing. The examples on their site – a clip of Shanae Collins ripping Pizzey bowl; a profile on skate photographer Tessa Fox; a blog post by Kat Williams on her skate trip in China – show young girls what's possible if they keep skating.
While female skateboarding is growing, a lot of the interest is coming from outside the industry. April Caslick, a shredder from Newcastle, says, "Pretty much everyone is interested in female skateboarding except for skateboarding." She recently earned $1000 to ride a motorised skateboard in a commercial for a bank and, while the money was good, "It's not anything to do with the skate industry." She went on to say that there are supportive people in the skate industry, but female skating usually gets brushed aside or overlooked.
Kat says there's a misconception that there's no market for female skateboarding, but it's just that – a misconception. She cites the emergence of female-run companies like Kudos, Hoopla and Meow as proof that the lack of a female market is "complete bullshit". Female-owned skate companies are a good sign for female shredders because they operate under the 'for us, by us' business model, but sometimes female skateboarding is presented in a way that makes women cringe.
Sex sells, as the saying goes, and in advertising and marketing, girls are often sexualised rather than respected for their skill on the board. "I've literally walked away from photoshoots with companies because they've asked me to wear a bikini [and pose] with a skateboard," Nikki-rose explains. "I'm just like, that's not me, that's not what skateboarding's about." Kat, on the other hand, says she's glad that her sponsors don't put those expectations on her, adding, "I'm not trying to be a model or a movie star; I'm a girl that skates."
The first female skater to really embrace the 'sex sells' approach was Brazilian pro Leticia Bufoni, who posed in a g-string for Men's Health magazine in 2014, then naked for ESPN in 2015. It was a pretty controversial move, but April Caslick didn't think it was a bad one. "People were super against it, but I'm like, you do what you do to make money off skateboarding." Izy Mutu had a similar view, saying, "Fuck it, it's her body and she's comfortable with it, so kudos to her." Izy says she used to get bummed out when companies used "practically naked models to market their brands", but now she's indifferent to that side of it. "It's just like how skateboarding's going to be in the Olympics … if you don't like that, you don't have to be a part of it."
None of the girls I spoke to have intentions to participate in the sexualisation of skateboarding (Kat and Nikki-rose were actually dead-set against it), but they're all confident that women's skateboarding is growing on its own. "At the end of the day, female skateboarding is blowing up whether you like it or not," says Kat. "I'm hyped to be a part of it. I can't wait to see what the next 10 years hold for female skateboarding!"